INHALE two, three, four, five EXHALE two, three, four, five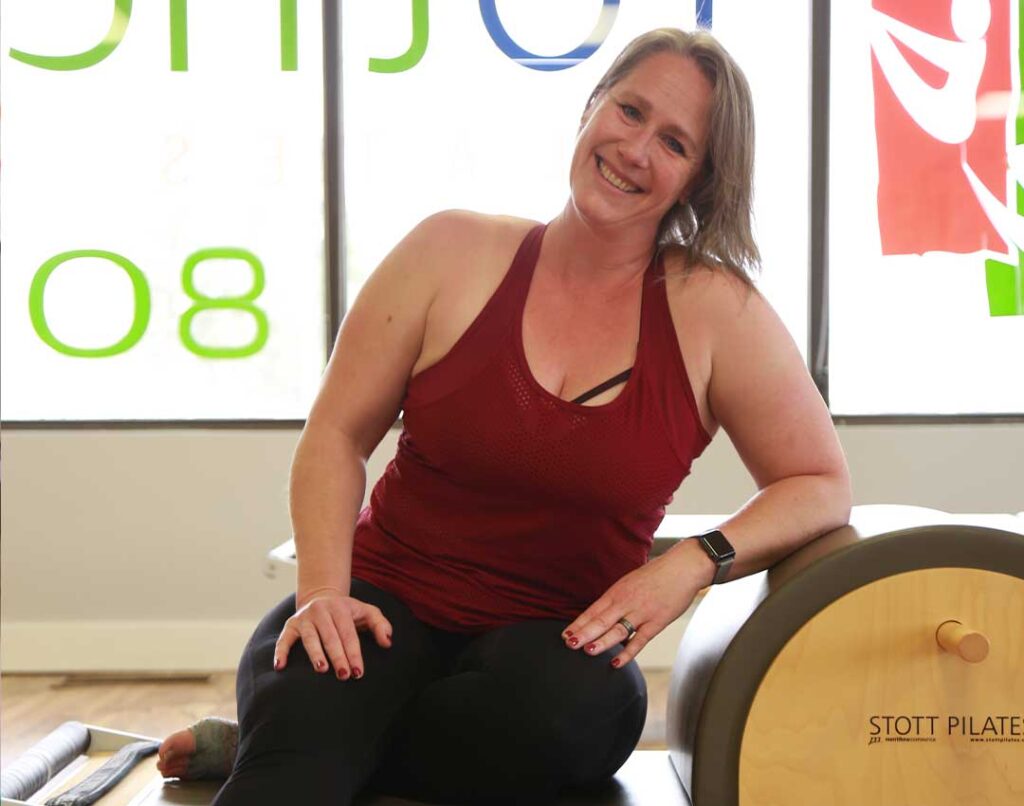 I was raised in Winnipeg, where I participated in a wide variety of sporting events. I excelled in gymnastics, swimming, and track and field. I was certified through the Manitoba Coaching Federation to coach gymnastics.
Unfourtunately, an injury at an early age sidelined me from the sports that I loved. I needed to find another way to move my body that brought me the same kind of joy that gymnastics, and track and field had provided. At the age of 18, I began Personal Training with European Health Spa and at the College Universitaire de Saint Boniface in Winnipeg while attending University.
I moved to Lloydminster in 1990, and began coaching gymnastics here. I am certified as a Personal Trainer through the Canadian Society of Exercise Physiology and have a Diploma from Mount Royal College in Personal Training. I have worked as a Personal Trainer at StressBusters and at the Common Wealth Centre.
However; something missing I wanted to help others find joy in moving and have that transition into other areas of their lives.
Pilates became my calling!
Pilates operates on many of the same principles that I have used over the years teaching weight training. Emphasis on breath, posture, anatomy and proper technique are vital for goal achievement and injury prevention. Pilates is versatile and can be applied to any sport and individuals of varying fitness levels. In many ways, it has delivered joy, not just to me but to my 100's of clients over the years!
Fitness and nutrition are new in our world (really only since about the mid 70's), so we're still learning everyday. I love the constant learning and figuring out how I can help someone move better today to enjoy life more tomorrow. I love the constantly changing landscape of this job that allows me to learn new things almost everyday and also be a tool for change in the world. I see where things don't work and strive to make them better. I correct myths and educate. My ultimate goal is for people to fall in love with moving again. To be able to live fully everyday and maintain their quality of life without constant trips to the doctor or living on pills. Helping people love themselves as they are, instead of only when they are a certain size is amazing. To move well, move often, and live better everyday through small manageable changes for longterm health.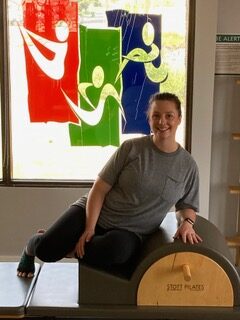 Most of my working life I spent in a chair at a desk. In 2015 I did my first foundations class with some coworkers. I fell in love immediately. I couldn't believe how great I felt. The more I did the more I noticed a change in how I felt physically and mentally. Pilates had had a huge impact on a lot of my daily activities and one of my all time favourite past times, horse back riding. Everyday I feel stronger and I am constantly learning. In the spring of this year I decided to take the Intensive Mat course and I am working on my certification for Pilates Instructor. I want to help people feel better, move better and have a better quality of life. I look forward to meeting new people and new friends.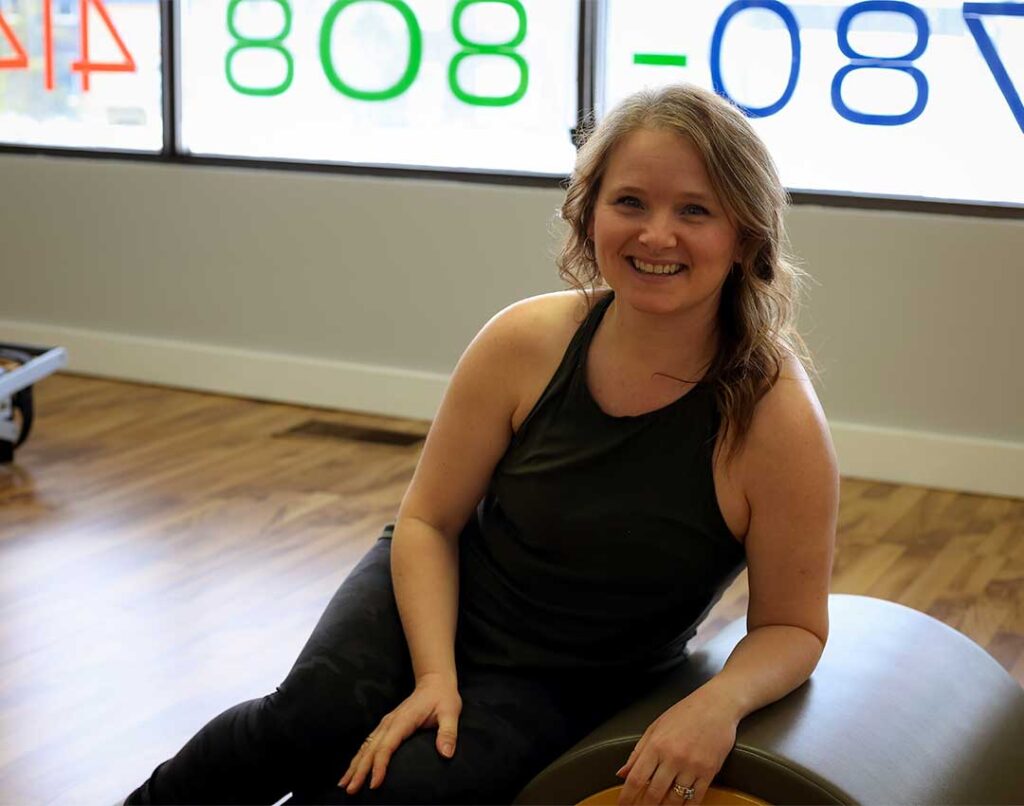 Several years ago I stepped outside of my comfort zone and took my training to become a REFIT instructor. I loved these classes for myself and knew how much they helped to transform the way I looked at movement and health. I really didn't find exercise fun before REFIT and I loved it and wanted to share it with others.
I genuinely want to encourage people and help them enjoy exercise and movement. I want them to see themselves the way I see them – beautiful, worthy, of love and with value that has absolutely nothing to do with the number on a scale or the size of their jeans.
I want to teach people that exercise is not a punishment for what you ate but that it can be fun and social and rewarding all at the same time. I have learned through my journey that working out doesn't have to feel like you "killed yourself" but can be found in so many places. I hope to help people find their "happy place" with movement the same way I first found mine with REFIT.
I love how Pilates teaches people to be mindful, builds body awareness and increases confidence. It enhances their lives and bodies way beyond the time they spend in the studio as they ease through pain issues or rediscovering how much they really do enjoy how moving more makes them feel.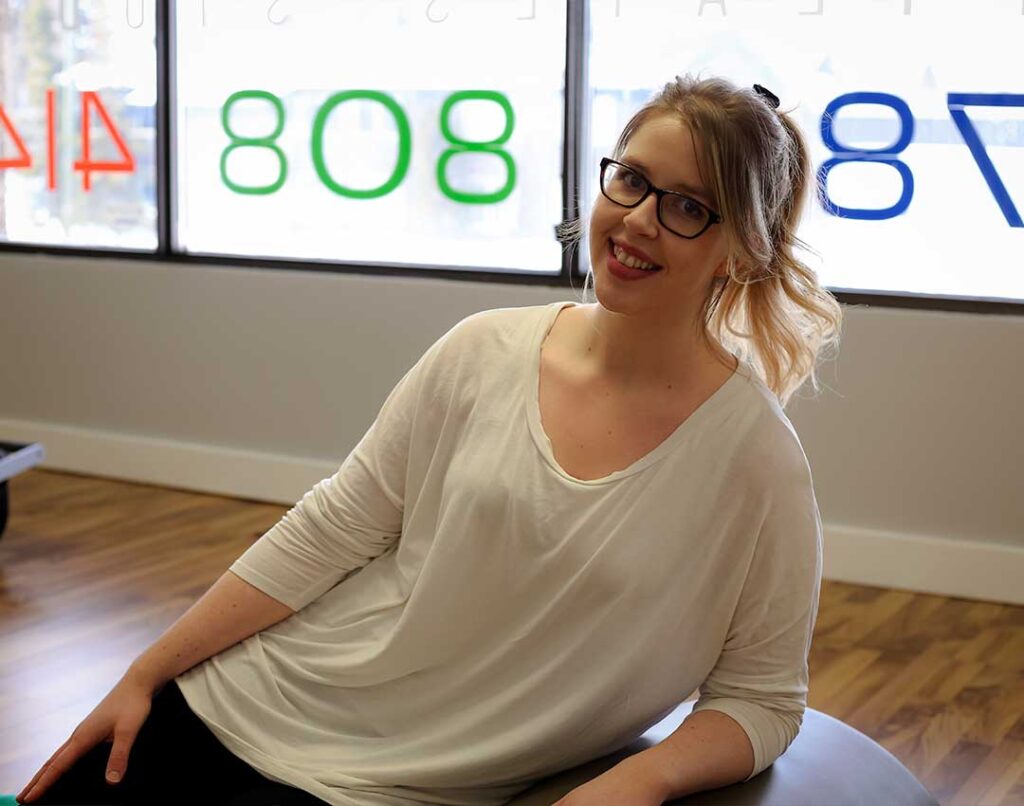 I grew up in Fort Saskatchewan, I was an avid figure skater for many years before I began coaching with Skate Canada in the Can Skate division. I moved to Lloydminster in 2008 and have been a part of the community ever since.
At the age of 19, I started working in a nursing home. While I loved doing care work and found a passion for helping people…it was not kind to my body. After four years, I developed quadruple hernias from the heavy workload and was experiencing daily lower back and abdominal pain. I knew something needed to change. So I began my journey with Pilates as a student of To The Core in September 2016. I had no idea Pilates could help me so much and that proper movement, guided by knowledgeable instructors could reduce my pain, effectively giving me back control of my body.
WHERE HAD THIS BEEN ALL MY LIFE AND HOW COULD I LEARN MORE TO START HELPING OTHERS?
After two years as a student, I decided to take the STOTT® Intensive Matwork training and became an instructor in August 2018. I want to help people live their best life and find confidence in things they didn't think they could do, or haven't been able to for a long time. That is my To The Core mission. In pursuit of this, I have also taken the functional fascia movement course, and am currently learning other pieces of equipment.
I plan to continue my education with the Reformer, Injuries and Special Populations course this year. Giving me more tools to better assist my clients reach their goals of strength, better movement, and quality of life.